eFlexFuel for motorbikes and powersports
Checkout our products below
Please select your motorcycle
Can´t find your vehicle listed? Please leave a request for our customer service team.
eFlexFuel products are not available for direct injection engines (TFSI, TSI, CGI, FSI, GDI, EcoBoost, etc.) or diesel engines.
We are launching an eFlexFuel device suitable for direct injection vehicles at the end of 2021. Join the waiting list.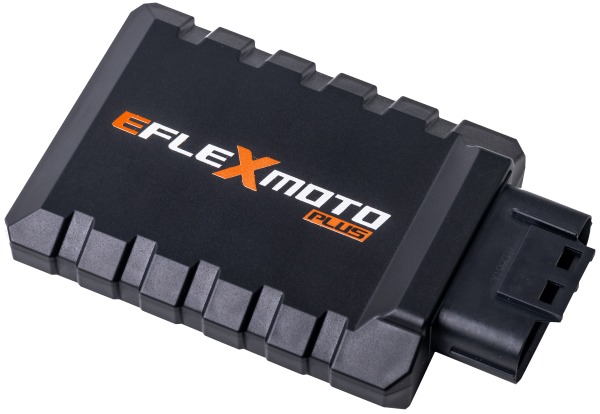 529 €
Includes free delivery
---
Full performance benefits of E85
---
Fully automatic eFlexFuel Technology optimized for Performance
Use E85, gas or both seamlessly
Up to 10% performance increase**
Automatic and adjustable cold start functionality
4 driving modes including 1 customizable mode
Configurable 2D fuel maps
949 €
Includes free delivery
---
Precision and maximal power
---
Fully automatic eFlexFuel Technology engineered for Power & Precision
Use E85, gas or both seamlessly
Up to 15% performance increase**
Automatic and adjustable cold start functionality
6 driving modes including 3 customizable modes
Configurable 2D fuel maps
Configurable 3D fuel maps, log files and sensor linkage
2 additional analog inputs for external sensors (MAP, MAF, TPS or WBO)
*Fuel prices and properties vary. Subject to vehicle engine and fuel specific properties. Location and country specific considerations apply. To fully understand the emissions always consult your fuel distributor and enquire for the properties and source of the fuel.
**Depending on your engine technology and/or your custom built of the engine.
---
Adjustable solution for various driving conditions
For those who aren't interested in digging into the depths of tuning their engine, eFlexMoto Plus offers an easy solution. eFlexApp with three different drive modes included enable users to reap the full benefits of high-octane E85. Switch between Normal, Sport and Track modes with your smartphone and enjoy precisely the kind of performance you need.
Economy and performance
With eFlexMoto Plus, you can fine-tune your engine running on ethanol fuel. eFlexTuner allows you to change the air-fuel-mixture at different RPM levels to further improve your engine performance and economy. Enjoy an easy way to optimize your engine and take full advantage of the increased engine performance.
Compact design and optimization for powersports
Designed for motorbikes, powersports vehicles, eFlexMoto Plus comes with a lighter, slimmer design that fits in smaller spaces. eFlexMoto Plus and its driving modes are optimized for anything ranging from a classic V-Twin to high revving inline-four engines. Fuel maps are adjusted according to the engine RPM range and the chosen driving mode.
Tuning to Perfection
Take your engine's performance to the next level with E85 fuel and the eFlexPro conversion kit. Connect up to two engine sensors and tune fuel injection with the a 3D fuel map using eFlexTuner software. Improve your engine performance by as much as 15%.
DIY Engine Optimization
Connect to an external wideband lambda controller and optimize the air-fuel-ratio to perfection based on the engine load and RPM. With eFlexTuner software, control is in your hands with log files and tools for analysis. eFlexMoto Pro does not alter the original engine sensor data and all of the OEM engine safety features remain fully functional.
Custom Tunes
Control your own tuning by saving multiple custom tunes that can be switched in and out according to your different driving conditions. eFlexApp allows you to save three of your own tuning.
Unfortunately your vehicle is not compatible
Reason:
Please select your vehicle
Select make, year, model and engine to check compatibility with eFlexFuel products.