eFlexFuel E85 Flex Fuel Conversion Kits
Get Up to 20% More Horsepower with eFlexFuel and E85
No Tuning Required
Select your make and model for a vehicle specific kit
Unfortunately your vehicle is not compatible
Attention!
The stock fuel system of your vehicle lacks the flow capacity to run full E85.
You can't run full E85 and need to blend it with gas. Our app lets you monitor the fuel blend and gives a warning when the limits of the injectors are reached.
If you already have replaced the fuel injectors please list the modifications on the checkout page. Our technical support will then confirm the injector connectors and verify that there's enough flow capacity for E85.
Please reach out to our customer service for more information
Product Page
Attention!
For V10-V12 engines this product is not currently available for sale.
Please select your vehicle
Select make, year, model and engine to check compatibility with eFlexFuel products.
eFlexFuel is your gateway to performance
eFlexFuel E85 flex fuel conversion kits enable running high-octane E85 ethanol fuel in gasoline powered engines. Designed for drivers who want to increase their engine power without compromises, eFlexFuel is the easiest and safest way to enjoy the performance of high-octane E85
Drive on E85, gasoline, or a combination of the two
Fully automatic system with no tuning or changing maps required
Complete kit specific to your vehicle with everything included for DIY installation
Piggy-back technology that doesn't interfere with the OEM engine systems
We verify the compatibility of your fuel system and possible engine modifications for E85: fuel injectors, fuel pump, fuel lines
Vehicle specific kits starting at $699
Automotive products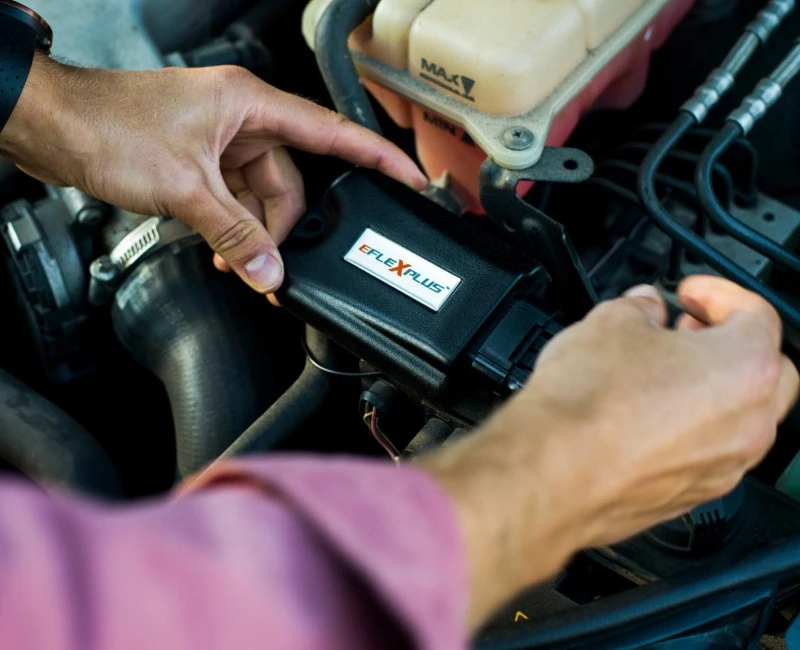 eFlexApp for mobile connection
All eFlexFuel kits feature a Bluetooth connection and eFlexApp for your smartphone that allows you to monitor the engine in real-time while driving. See what kind of fuel blend you're running, adjust cold start settings or toggle between three different engine performance modes: Economy, Sport, and Dynamic. With the eFlexPro, you can use custom E85 tunes created with the eFlexTuner PC software.
About eFlexApp
How does eFlexFuel increase performance and torque?
E85 with its 100+ octanes is the highest octane fuel available at the pump. High octanes means that the engine can run higher compression ratios and more boost. E85 also burns cooler and cleaner meaning that it's good for the engine and the environment. With eFlexFuel your engine is always optimized and produces the best power possible, no matter what fuel blend you're running.
Automatic engine tune adjustment optimizes the engine in real-time to match the fuel blend
E85 has 100+ octanes that supports higher compression ratios and greater ignition advance
E85 contains a great deal of oxygen for burning: the fuel burns more completely producing more power, less harmful emissions and a cooler engine
eFlexPro with its fully customizable fuel maps enables precision engine tuning on E85 resulting in up to 20% horsepower gains
Performance
Over 3,800 E85 flex fuel stations nationwide
Available nationwide, E85 is the highest octane fuel available at the pump. With eFlexFuel your engine can still run on gasoline or any combination of gasoline and ethanol.
Find the nearest E85 pump
What's included in the eFlexPro E85 flex fuel conversion kit
Check out what the eFlexPro E85 flex fuel conversion kit package contains and how eFlexApp works in practice.
Every eFlexFuel kit we deliver is customized for your specific vehicle.
Select your vehicle
What people are saying
I installed the kit on my wife's SUV and was impressed with the low end grunt and greater horsepower that comes with the eFlexFuel product. Bought another SUV and got the same result.
Jim, Toyota 4Runner 2016, Toyota Sequoia 2004
My engine sounds better, revs higher, and is definitely faster. If you're looking for an E85 kit to boost power but you don't want to fully convert, this is the kit. I'd recommend it to anyone.
Mark, Ford Mustang GT
I have been using the eFlexFuel kits for more than 6 years on a supercharged Mustang, NA tuned M3 E46, on a 2 supercharged M3 E46 and now I have made an upgrade to the newest eFlexPlus. I have had great results in hp increase. Great product - I recommend it 100%. They have an excellent customer service as well.
Eduardo, Ford Mustang
Select your region
Americas
Europe
International