eFlexApp
Control over your engine performance
Monitor engine performance with ease
If you have an eFlexFuel kit, be sure to take advantage of the eFlexApp. With our mobile app, you can choose engine tuning profiles, monitor performance, and customize as you drive. With the free eFlexApp, you'll have access to a variety of features:
Keep an eye on essential data such as ethanol content, fuel temperature, injector activity, injector duty cycle, and more.
Easy self-diagnosis with with displayed fault codes.
Choose from different driving modes (eFlexPlus, eFlexMoto Plus and eFlexPro, eFlexMoto Pro only) and settings.
The app is intuitive and customizable and lets you take command of performance and fuel consumption.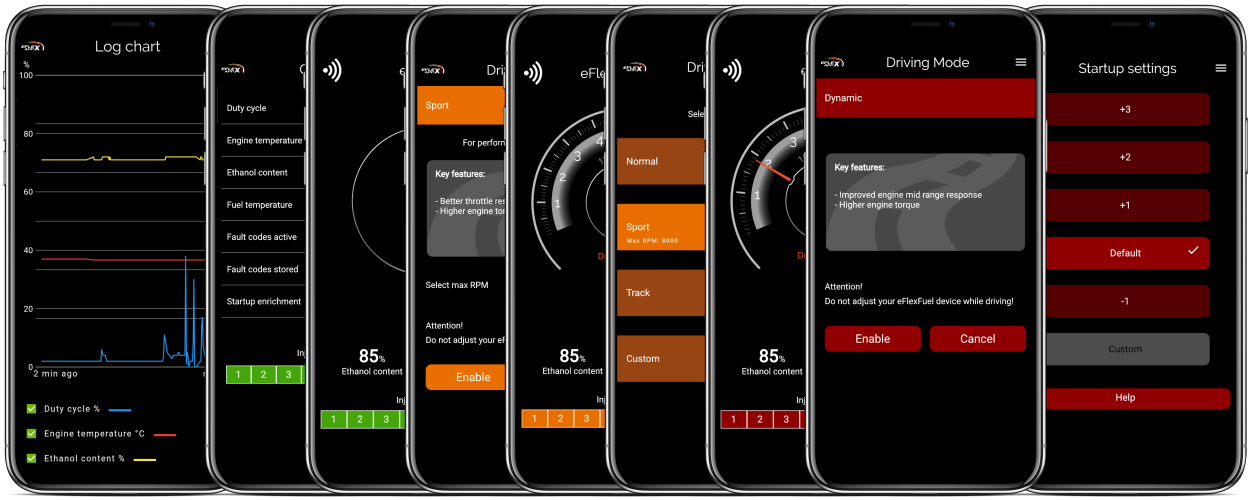 3
Choose your app settings
(If you'd like to modify them)
4
Select your driving mode
5
Drive with E85 for added power
Operating system requirements for the app include the Android 5.0 and up iOS 9.0 and up. eFlexApp requires permission to use Bluetooth on both operating systems. In addition, location permission is required on Android. The location is only used when nearby Bluetooth devices are being scanned. eFlexApp uses BLE technology, which requires the location to be turned on while scanning.
The eFlexApp only works in conjunction with one of eFlexFuel Technology's E85 conversion kits. Drive on E85, gasoline, or a combination of the two for more power when you want it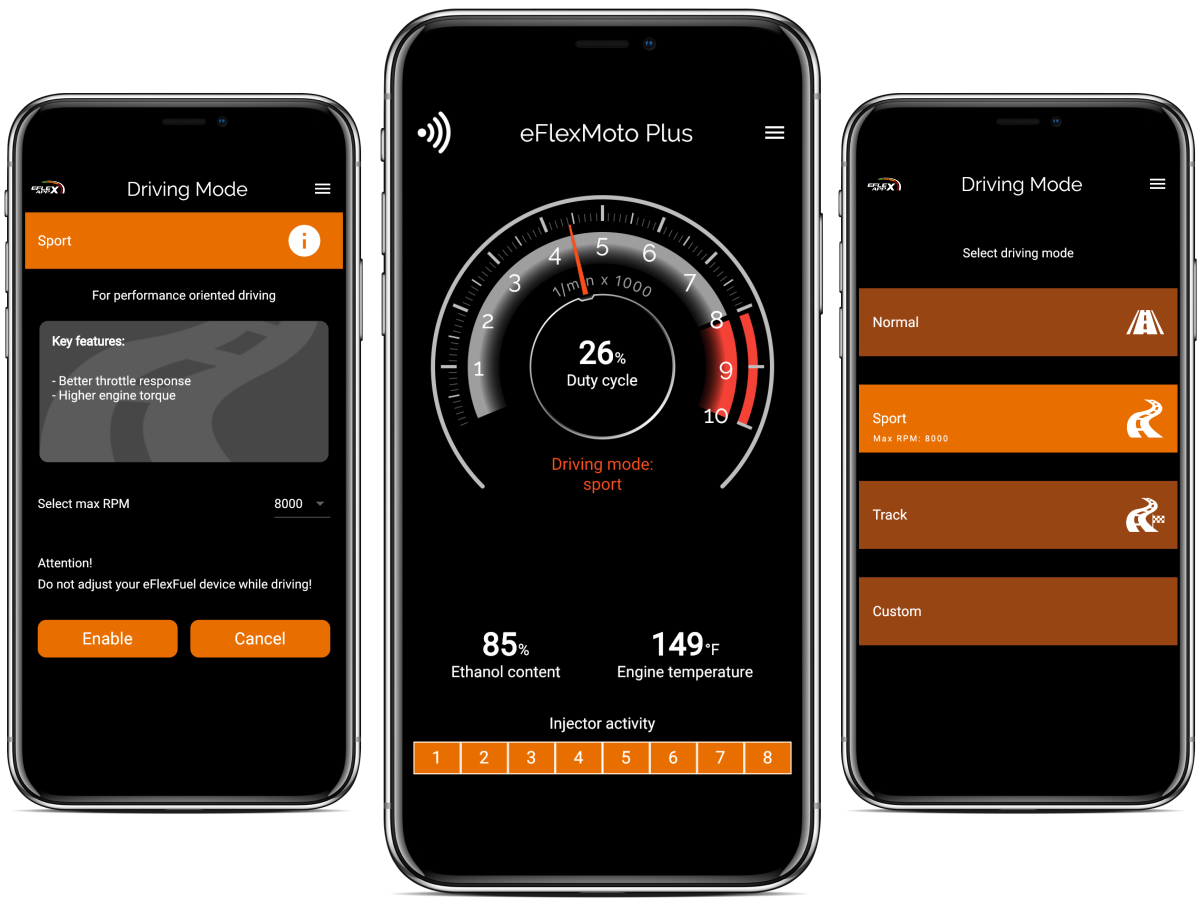 What you get with the eflexapp
| Features | | |
| --- | --- | --- |
| Monitor ethanol content, fuel temperature, ambient engine temperature, injector duty cycle and cold enrichment, etc. | | |
| Real-time logging feature (duty cycle, ethanol content, engine temperature) | | |
| Self diagnosis - Display fault codes | | |
| Adjust and monitor cold start | | |
| Choose your driving mode (Economy, Dynamic, Sport) | | |
| Display OEM engine sensor data: MAP, MAF, TPS, or WBO | | |
| Custom E85 tunes (Created with eFlexTuner) | 1 | 3 |
My local shop did the install, and I used the app to monitor things and try the different tunes. It runs like a bat of hell when I fill it with E85.
- Testimonial From Mark With A Mustang GT
The product is great quality, the app is easy to use, and the fact that I can mix gas and E85 means I don't have to worry about problems with colder weather.
- Testimonial From Paul With A WRX