eFlexTuner
Adjust your engine performance
Precision tuning starts with
eFlexTuner
The power is in your hands with the intuitive eFlexTuner. After installing the eFlexPlus, eFlexMoto Plus, eFlexPro, or eFlexMotoPro kits on your vehicle, download our free E85 tuning software to make adjustments to your engine in real-time.
Easy preset options to tune your engine for different situations.
Fine-tuneduring normal driving using the logging feature or on a dyno.
Create one custom tune (with eFlexPlus) or three custom tunes (with eFlexPro).
Easily monitor results from the tuning software or the eFlexApp, eFlexFuel Technology's exclusive app you can also download for free.
eFlexTuner requires Windows 10/11 OS, as well as Bluetooth 4.0 support. BT Dongles can also be applied.
eFlexTuner User Manual
Get your free e85 tuning software
Get your free eFlexApp

How The eFlexTuner Works
Every modern vehicle has an engine control module (ECM) that monitors the air-fuel mixture so it can be adjusted optimally. When you use tuning software, you are not able to reprogram the ECM to improve your engine's performance. Instead, eFlexFuel is a piggyback system, so you can make tunes that will automatically read and customize - in real time - the ECM's fueling parameters.
This enables you to make tunes without reprogramming or touching the ECM at all. Our eFlexTuner allows you to drive with greater flexibility and more power without any permanent changes.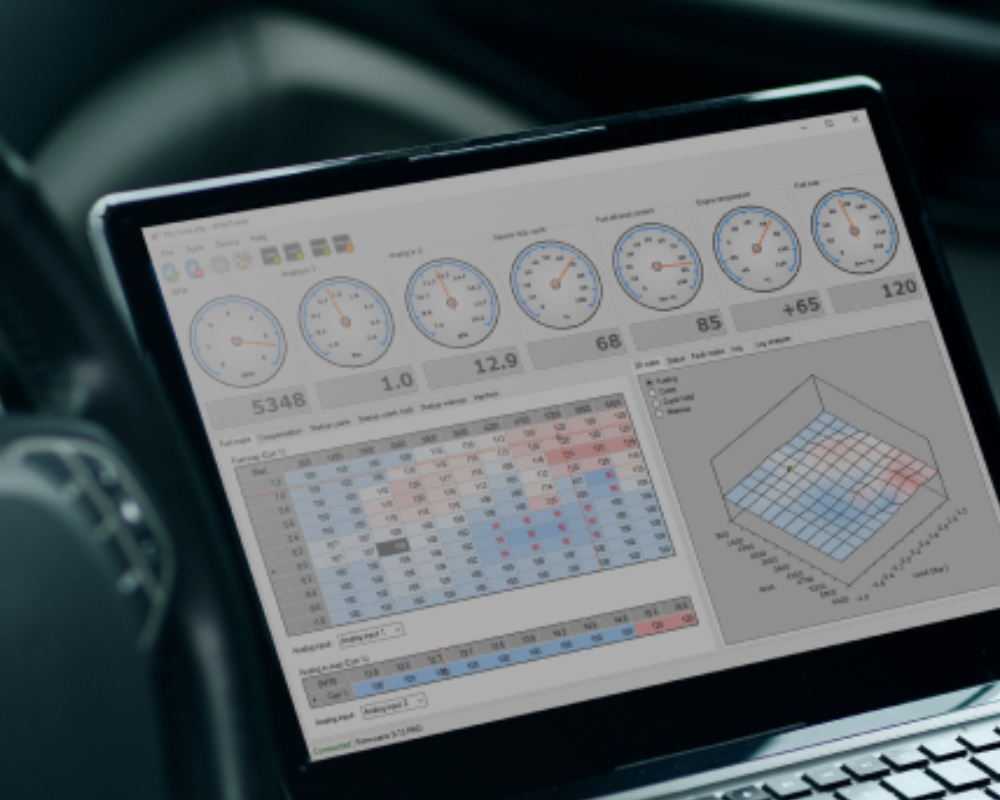 E85 Tune Technical Details
The eFlexFuel R&D team developed both the eFlexApp and our E85 tuning software in-house so that both meet the specific requirements of our E85 kits. While all eFlexFuel kits come with fully automatic, real-time ethanol content detection sensor,it's only with the Plus and Pro kits that you can also tune for improved performance.
Other requirements for the eFlexTuner:
Windows 10/11 OS
Bluetooth 4.0 support (Most laptops have this. USB Bluetooth dongles can be used if the laptop or desktop does not have Bluetooth.)
If You Drive On Flex Fuel, Not Just Any Tune Will Do
There are other tunes out there, but the eFlexTuner is ideal when you want to drive with flex fuel. That's because you cannot use a gasoline tune for E85 or an E85 tune for gasoline. Since tunes can only be made for fixed ethanol content levels, and the actual ethanol content of E85 varies between 51%-83%, it's rarely optimal to run a fixed E85 tune anyway.
With the capability kit installed on your vehicle, you can drive on E85, gasoline, or both. With the app, you can choose the tune while driving. When the ethanol content level changes, the tunes will automatically adapt in real time. You can use preset options or custom tunes to meet your performance needs.
eFlexPlus and eFlexPro offer different tuning possibilities. See the chart at the left for more details.
| | | |
| --- | --- | --- |
| RPM. based 2D fuel map | check | check |
| Fault codes | check | check |
| Data logging | check | check |
| Load based 3D fuel map | | check |
| Log file analysis | | check |
| Sensor editor / linkage | | check |
| Additional 2D fuel map | | check |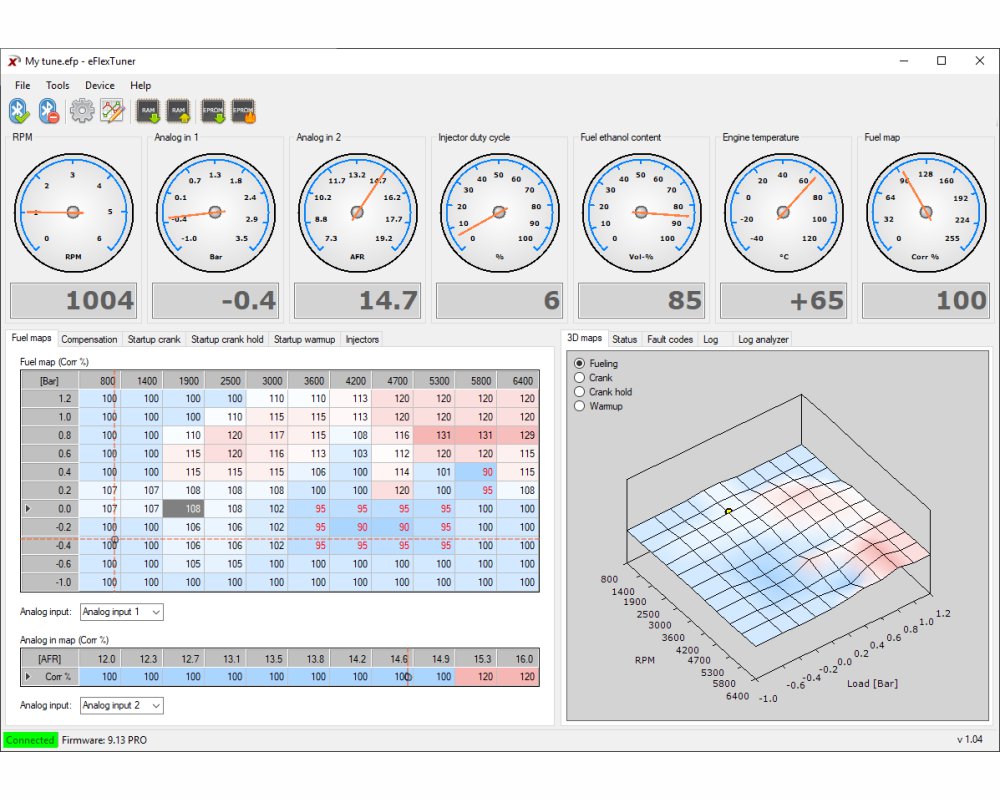 Fuel map adjustment
eFlexTuner supports engine RPM and engine load-based fuel maps. With eFlexPro in load-based maps, a sensor of your choice (e.g., MAP, MAF, TPS, WBO) is used when adjusting the injection. The fuel map cell being used is displayed in real-time which simplifies the adjustment process. You can tune in real-time or make adjustments offline based on log files.
Log file analysis
eFlexPro and eFlexMoto Pro log files can be analyzed in depth with the eFlexTuner. Data can be taken from an entire session or a specific timespan. The data is color-coded, which helps to distinguish e.g., the fuel mixture or the injector duty cycle.
3D fuel maps
With eFlexFuel's Pro models, fuel maps can be observed in the 3D graphics window. The view can be rotated freely and selected fuel map cells are highlighted over the 3D map. The color-coded fuel map makes analysis simple.
Sensor linkage
Two external sensors (e.g. MAP, MAF, TPS, WBO) can be connected to the eFlexPro or eFlexMoto Pro control units. Sensor files created in the sensor editor can be linked.
Cold start adjustment
With the versatile adjustments for cold starting, you can define your settings in three different phases of start-up; from cranking to warm-up. Monitor the cold start process in real-time.
Fault codes
eFlexFuel products have built-in self-diagnostics. With eFlexTuner, you can read the fault codes and troubleshoot the possible cause.
Data logging
All running parameters of the control unit can be captured and saved to a log file. Choose which parameters to display including date range. eFlexPro and eFlexMoto Pro log files can be analyzed in-depth with the eFlexTuner. Color-coding helps distinguish data points. (For example, the fuel mixture or the injector duty cycle.)