Dodge uses E85 to beat the EV's! The Demon 170 is faster than Lucid's $250K Air Sapphire and Tesla's Model S Plaid.
The Dodge Challenger SRT Demon 170 is a car that was designed with one thing in mind: To deliver unparalleled performance. 0-60 in 1.66 seconds. 8.91-second 1/4 mile @ 151.17mph. The Demon has made shockwaves with its performance, stealing the go-fast crown back for ICE, and it owes much of its performance to the fuel that it runs - E85.
So, why did Dodge engineers choose E85 as the fuel of choice for the Challenger SRT Demon 170? The answer lies in the unique properties of E85, and its availability. E85 is a fuel that is (up to) 85% ethanol and 15% gasoline. Ethanol is a renewable fuel that is derived predominantly from corn (Not the kind you eat, it's a little different - Should we showcase the differences in a future email/post? Let us know!).
When blended into E85, the result is a very high-octane fuel that is ideal for internal combustion engines. This high-octane rating, combined with widespread availability and natural cooling properties of E85, make it the ultimate choice to safely maximize power from high-performance engines, such as the Demon 170's 6.2L supercharged V-8.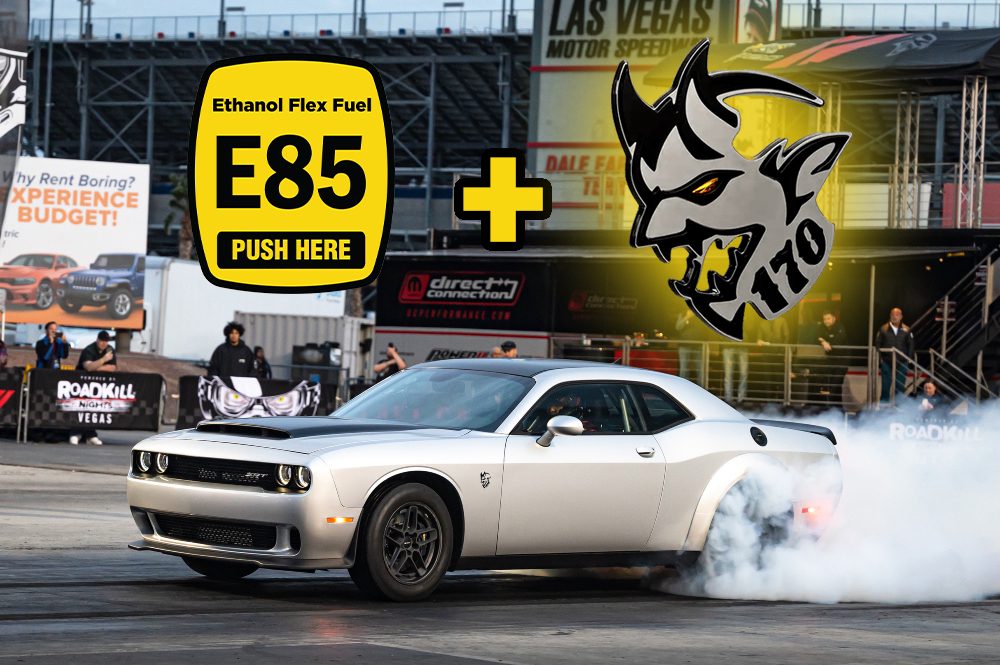 How does the Demon Make 1,025HP on E85 Vs. 900HP on Gasoline?
The Demon 170's ECU adjusts timing and boost (among other parameters) based on the ethanol content in the fuel. More Ethanol = Higher Octane = More Power! E85 Octane ranges from 100-108. This high-octane rating allows the ECU to safely extract the maximum performance from the engine, and this is what Dodge engineers have harnessed.
Oh, and it's sure nice that E85 can be pumped at thousands of stations across the US, often far cheaper than Premium grade gasoline!
Dodge engineers use technology similar to eFlexFuel to unlock E85 in their fastest car ever produced.
So really, how can you fill up with E85, gas, or any blend? The Demon 170 has an ethanol content sensor in its fuel system, just like eFlexFuel. This allows the ECU to make real-time adjustments based on the ethanol content in the fuel. eFlexFuel uses this same principle: A real-time ethanol content sensor is installed in your fuel line, allowing our control unit to precisely modify fueling. The vehicle's own ECU then adjusts timing based on the lack of knock due to higher octane fuel, unlocking peak performance.
The bottom line? E85 is superior fuel, Dodge engineers have harnessed it, and you can too. Install our eFlexPlus ($699) or eFlexPro ($999) E85 conversion kit (on an approved vehicle), and you're ready to fill up E85 and experience the performance gains yourself. Confirm E85 & eFlexFuel compatibility.
We'll leave you with Dodge's intro video to the Demon 170 - Thank You for producing this vehicle, Dodge! This car is truly special, and only able to achieve these results due to E85:
Introducing The Dodge Challenger SRT Demon 170 - YouTube